Why should I use PhotoStructure?
PhotoStructure is designed to be a safe, permanent home for all your photos and videos.
There are many, many software packages to help manage photos and video libraries.
PhotoStructure is uniquely focused on
🏰  ownership,
🏖️  convenience, and
💎  permanence of your library.
Features unique to PhotoStructure are marked with a 🌟.
🏰 Ownership #
PhotoStructure is "self-hosted," which means it only runs on your computer.
PhotoStructure isn't yet-another cloud-based photo service that will be discontinued, or shut down, or involved in a privacy scandal, or disappear, along with your photo library.
Your photos, videos, and metadata safely stay with you, and always will.
🏖️ Convenience #
PhotoStructure is designed to be easy to install and effortless to run.
PhotoStructure runs on most computers #
PhotoStructure doesn't require any expensive, proprietary hardware. It happily runs on your laptop, desktop, server, network-attached storage, or virtual private server.
We've got desktop installers for macOS, Windows 10, and Ubuntu. Server installations, including docker, are supported.
Upgrades are automatic for most editions of PhotoStructure.
Quick and easy installation #
PhotoStructure's desktop installation takes less than a minute, and the welcome page only has a couple of questions before you're on your way.
Install PhotoStructure on your desktop or server
Automatic imports and synchronization #
PhotoStructure can automatically import photos and videos from all your drives.
PhotoStructure will find that old backup folder that has some long-forgotten baby pictures, and the new photos you just uploaded, without you doing anything.
Automatic organization #
What I had, before I started PhotoStructure: a pile of hard drives and old backups and duplicates and some files that had succumbed to bit rot. A big, intractable mess.
What I wanted: a deduplicated set of all my photos and videos, in one organized folder hierarchy.
So I wrote it. PhotoStructure can bring some order to your chaos with automatic organization.
Advanced de-duplication 🌟 #
PhotoStructure automatically groups together duplicate copies and similar variations of your photos and videos, and scales to libraries with millions of files.
PhotoStructure doesn't just de-duplicate the same file contents, mind you: we use direct and inferred metadata, as well as rotation-invariant image content heuristics to aggregate variations. We believe it's the most robust and scalable solution available to consumers: PhotoStructure's a really super de-duper.
Support for many photo and video formats #
PhotoStructure supports several hundred image and video formats, including JPEG, many RAW image types, HEIC, and many video formats.
Automatic photo and video validation #
Photos and videos are automatically checked for corruption before being imported into your library.
Advanced metadata handling 🌟 #
PhotoStructure reads metadata information from .xmp, .mie, .exif, .exv, and Google Takeout .json sidecars.
For the files that are missing important metadata, like when the asset was captured, PhotoStructure uses a series of heuristics to "fill in the gaps," including interpolating captured-at time from sibling files, and parsing pathnames for embedded datestamps.
This metadata inference is leveraged by automatic organization.
Advanced search 🌟 #
PhotoStructure supports a rich search grammar to quickly and easily find just what you were looking for.
Read more about PhotoStructure's search feature here.
Automatic file conversions #
PhotoStructure builds high-quality JPEG previews for raw image formats (typically from dSLR and mirrorless cameras) so they are viewable by modern browsers.
Video assets are automatically transcoded to a format supported by modern browsers when needed.
Fast and fun browsing of "samples" 🌟 #
Photo galleries typically show you the last handful of photos and videos you've taken.
The human brain is remarkable at image recognition and pattern matching. We recognize patterns effortlessly, and find repetition boring: like seeing the last handful of photos and videos you've taken.
We find new patterns and images interesting, and even delightful.
When you view your PhotoStructure library's home page, you'll see a random selection, or "sampling," of images from your library. When you click When, you don't see all photos in reverse-chronological order, but instead, a random "sample" of images from every year. Click on a year, and you'll see a random sampling from each month.
This makes every PhotoStructure page delightfully different.
You'll find yourself rediscovering and enjoying memories you haven't seen for years and years.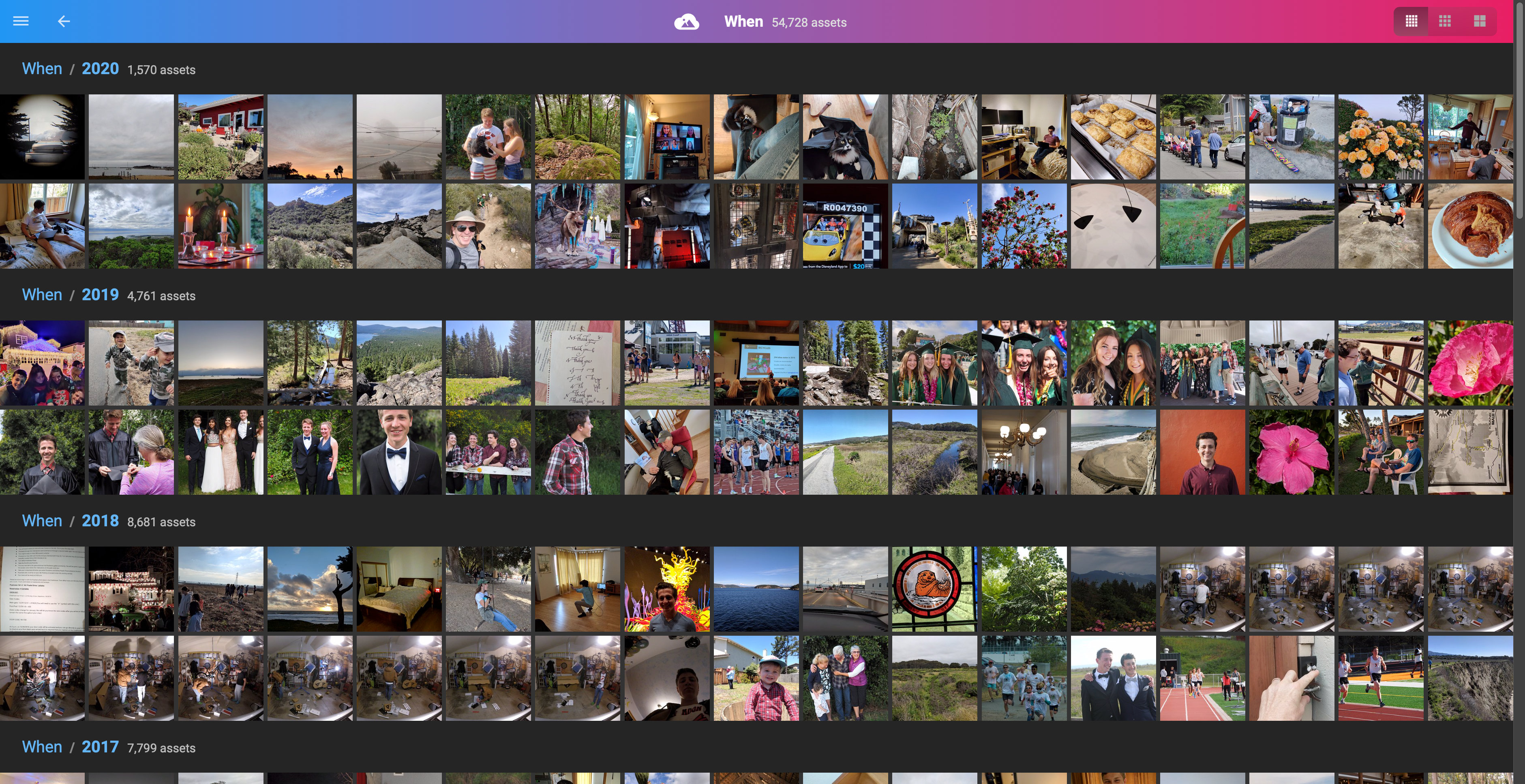 Install PhotoStructure on your desktop or server
💎 Permanence #
A lot of software and hardware is regrettably short-lived.
We've made a bunch of decisions, both technically, and organizationally, to help make your PhotoStructure library robust and durable.
Portable libraries 🌟 #
Your PhotoStructure library is portable across both machines and operating systems. You can create your library on an external drive attached to a Mac, move the drive to your Windows computer, import more photos on that computer, then move it to your NAS, and everything just works.
Scalability #
Many photo libraries are only designed to support tens of thousands of assets, at which point they slow down or crash.
PhotoStructure is designed to hold lifetimes of photos and videos, and is profiled and tested to run quickly and efficiently libraries that are tracking millions of files.
Polite work scheduling #
PhotoStructure schedules background work carefully to always keep your computer usable and responsive, even during CPU-heavy library imports and filesystem scans.
Automatic backups and internal health checks #
PhotoStructure backs up your library database automatically, and continuously monitors for problems. (The results of these health checks are viewable on the "about" page).
When PhotoStructure detects warnings or errors, repair tasks are run when applicable, like:
database optimization and dump-and-load restoration
file import retries when processes get "stuck" or timeout
child process recycling when high RAM usage is detected
cache clearing when the disk is nearly full
pausing current imports when the system or library disks are nearly full, to avoid "out of disk space" errors.
Open standards and formats #
PhotoStructure doesn't hide all your photos and videos in a proprietary library, or require expensive, proprietary hardware.
Your library database is stored as a SQLite database, with a clear, readable schema.
Upfront revenue source #
If you are not paying for it, you're not the customer; you're the product being sold. – Andrew Lewis
PhotoStructure hasn't taken any venture capital. I'm 100% bootstrapped, and building a company that I'm proud of.
PhotoStructure's revenue only comes from our users. PhotoStructure will never make money through "data sharing" or by showing advertisements to our users.
If PhotoStructure, Inc. goes away, PhotoStructure won't #
The code that powers your library will be open-sourced in the event of business closure, so you can continue to run PhotoStructure on your own hardware. I've written a lot of open source software in the past, and substantial parts of PhotoStructure are already open source, including exiftool-vendored, mkver, and batch-cluster.
Related reading #
Install PhotoStructure on your desktop or server